Conservatives, Republicans:
Let your cause be our cause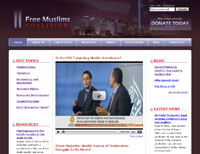 People come to your website for a reason. They may be supporters, journalists, voters, or even your opponents (who can take a flying leap). They are not there to admire the view. This is why our websites aren't designed to show off our graphic design skills (which are quite good) or to clutter the site with pointless bells and whistles.
We design professional-looking, easy-to-use websites that keep your conservative/Republican campaign or organization on message.
Web-based Content Management
Our "Backdoor" system allows you to update your site 24/7, without having to know HTML.
Controlled environment that lets you update vital content, free of worries of messing up your site.
Maintain content on your site: news, events, photo galleries, links, etc.
Create your own blog on your own site.
Add interactive features to your site: surveys, polls, volunteer forms, pettitions, etc.
Stay in touch with your supporters with our newsletter feature.
And more!
Learn more and try our demo >>
Associations