About Huberspace
Huberspace is a growing Web consulting firm, specializing in (but not limited to) political websites. The company was founded by veteran Web developer, Jim Huber. Political Web services that Huberspace provides include website design and development, content writing, search engine optimization, Web usability, and social networking
The company offers a content management system, called "Backdoor", which gives campaigns and organizations instant access to a great deal of content on their websites, saving them time and money. The system was designed (and continues to be upgraded) primarily with political campaigns and organizations in mind..
Huberspace founder, Jim Huber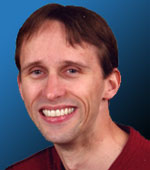 Jim Huber brings to Huberspace over 29 years of Web development expertise and 25 years of political Web experience. He has developed political websites, lectured on building effective campaign websites, and advised numerous candidates.
Before starting his firm, Jim honed his skills in political Web development at Washington Webworks, where he designed sites for political campaigns and political organizations. A sample of projects include websites for Elizabeth Dole for President, George Allen for Senate (2000), Americans for Fair Taxation, and the Republican National Committee.
Since starting Huberspace, Jim continues to work with Washington Webworks, but has done Web design for several political campaigns and organizations, including Eugene Delgaudio for Supervisor, Tom O'Donoghue for Congress, Public Advocate of the U.S., the Victims of Communism Memorial Foundation, and the Free Muslims Coalition.
Jim is also a nationally published political cartoonist. His cartoon, "Politically Correct" has appeared in National Review, publications in approximately 20 states, in textbooks, and on the Web. As a cartoonist, he has been interviewed by authors, radio talk show hosts, and newspapers.
Contact us today for a free website review.